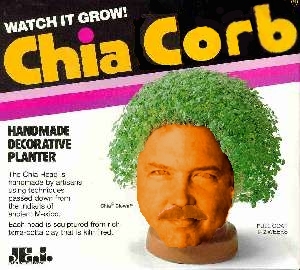 WATCH IT GROW!!!!!!
Animated Gifs
CHIACORB.GIF CHIACORB2.GIF
56K ISDN or Higher
Coming Soon.... "Chia Joe" & "Chia George"
Only $6.10
While they last!
Contact Joe Bradley to order yours now!
CHIA CORB
Contains:
* Handmade decorative planter
* Full Coat in 2 weeks
* Chia seed packet for 3 plantings
* Planting and care instruction sheet
* Very entertaining. Adlibs, Takes calls, Reads e-mail, and Bitches about the price of gasoline.
* The perfect "pet" ... Though he's not potty trained a Convenient plastic drip tray is included!